"Akihabara Tourism Ambassador Kamen Joshi AKIBA REPORT" is Akihabara Tourism Ambassador, Kamenjoshi members report Akihabara's attractive shops, events and more!
We visited "INDORE STORE" today!
What is INDOR STORE?

We mainly handle items and apparels which are based
on nostalgic old-fashioned games called retro game.
*The store opened on May 2017.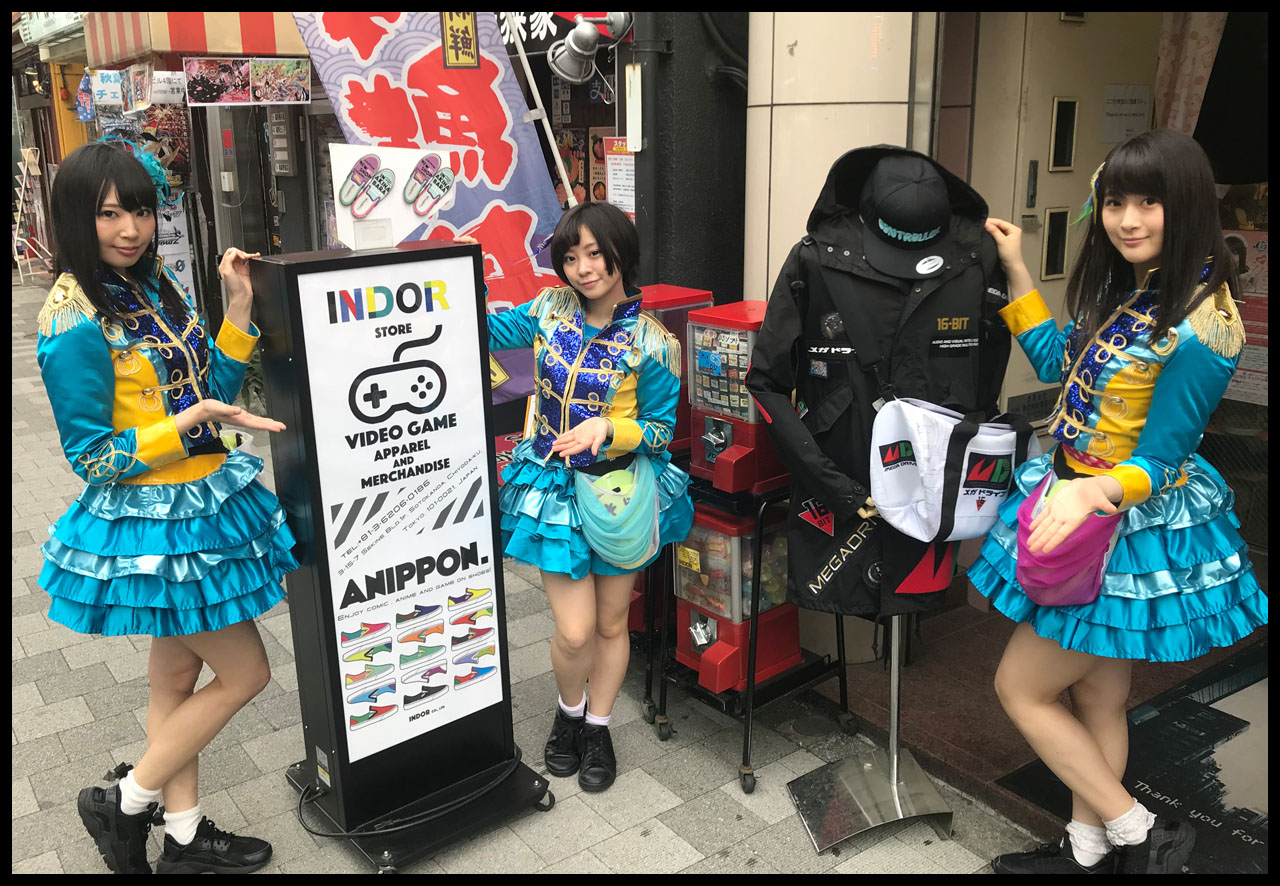 Game lover will love this signboard!

What kind of products do you have?

We have items and apparels based on retro games.
The best characteristics is our own brand called "ANIPPON."
It is Slip-on shoes that is motif of games and anime.
You can't find anywhere else.


We have not only characters such as Sonic the Hedgehog,
DANGANPONPA, Kinnikuman etc.
but also products that is inspired by the gaming device of SEGA SATURN.


Which one is the most popular?

The most Popular item is Sonic Slip-on.
This slip-on shoes design is from Sonic actually wears in the game.


Our own brand ANIPPON. is available online.
I hope you will check them out.
We also have accessories like button badge♪
【Click here for details☞】https://anippon.jp/

There are Pac-Man items as well!


Mod style coat from MEGA DRIVE!
I think it is so cool!

It is adorable that the stopper on the string
looks like a small controller!
Do you have foreign customers as well?

There are many foreign customers.
Approximately 70 percent on weekdays and
approximately 50 percent on weekend are foreign customers.

What items do they purchase?

Sonic T-shirts and slip-ons are popular among them.

Foreign people like Sonic as well!

Sonic shoes are fashionable and great for everyday use!

Game x fashion in Akihabara is wonderful!

Contact
AKIBA Tourist Association Secretariat
Mail:info@akihabara-japan.com